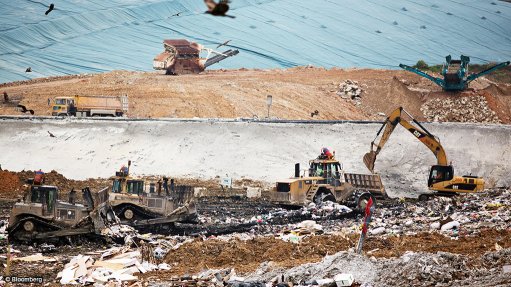 MUNICIPAL WASTE CONVERTED Waste management solutions provider Interwaste is currently focusing on opportunities that allow for waste to be converted into energy
Photo by: Bloomberg
Waste management solutions provider Interwaste – a member of the Institute of Waste Management of Southern Africa – is currently focusing on opportunities that allow for waste to be converted into energy.
Interwaste group sales director Jason McNeil tells Engineering News that there is an ongoing international trend towards on converting general municipal waste into an energy source.
"We have done a lot of investigating into the conversion of municipal waste into a refuse- derived fuel (RDF), which is what Interwaste is promoting. We will also be the first company to market this process, as we believe that the future of managing municipal waste is in RDF, and various other alternatives to landfill," he says.
South Africa's energy shortage and lack of landfill space countrywide provide Interwaste with the opportunity to enter the energy waste sector to convert waste into an alternative source of energy, extending the life of existing landfill sites and supplying an alternative fuel source to coal.
RDF is a high-quality fuel produced from solid waste materials with a high calorific value. The original waste materials come from industries, households and sorted municipal solid waste including, among other things, paper, cardboard, wood, textiles and plastics. The RDF replaces conventional fuels such as coal, which is used for power generation, steam generation and, heat generation, as well as cement kilns and other suitable combustion installations.
Interwaste RDF will be processed at the Interwaste facility in Germiston, Gauteng, where high-calorific-value wastes will be sorted, shredded in a primary shredder to reduce material size, then shredded to sub-30 mm in a secondary shredder and densified, depending on the intended end use.
"The unit we will launch in the country, which is imminent, will be capable of producing about 5 000 t/m of this type of material. This is the first unit that we have brought in and we are looking at bringing in a second unit and then rolling out that same technology on a national basis, as everybody has this similar need for an alternative fuel source when it comes to coal," explains McNeil.
He indicates that corporate South Africa has a role to play when it comes to reducing waste production, as waste is a by- product of inefficient operations. Interwaste aims to mitigate this challenge by becoming involved in establishing how the manufacturing process can become more efficient in reducing the amount of waste from the start.
"What we need is corporate South Africa to see the link between process efficiency, waste generation and cost containment," he says.
He notes that there is also potential to manage customers' waste streams by looking at the type of waste produced and how it can be converted into an energy source. This is considered a benefit, as customers will be in control of their entire supply chain when it comes to environmental management and integrating alternative fuels. "Our biggest challenge is presenting municipal waste conversion as a financially viable alternative to current practices, although we have noticed a lot of positive change in the industry," states McNeil.
To encourage corporate South Africa to look into municipal waste conversion, Interwaste developed an online report where customers can log on, track and trace their waste from the point of generation. Through this online report, Interwaste confirms where the company's waste is being delivered and provides the company with a report on how much waste is diverted from a landfill.
Joint Venture
McNeil notes that the company's joint venture (JV) in 2014 with cement and concrete company Lafarge was Interwaste's first entry into the waste and energy sector. The JV focuses on commissioning an alternative fuels-blending platform that accepts various suitable waste streams from industrial gene- rators on an ongoing basis, producing a consistent waste- derived fuel product that is transported to the Lafarge cement production facility in Lichtenburg for coprocessing. This was the first facility to produce liquid alternative fuels for coprocessing in South Africa.
"The technology has now been available for a year; it's a proven technology, so its sustainable, and we are increasing the amount of material that we take in. However, the potential exists to supply the product we produce to additional markets.
"We are therefore prepared to implement the technology to allow for other operations to make use of this material and to use it as an alternative source of energy," explains McNeil.
Drakenstein Project
The Drakenstein project, located in the Western Cape, is a public– private partnership between local government and Interwaste. Owing to the lack of available landfill space in the Western Cape, the municipality approached Interwaste in December 2008 to provide an alternative technology, rather than developing more landfill sites. It is hoped the project will use this technology to turn the municipality's waste into a commodity, either as a source of energy or as a reprocessed building rubble-type material that can then be used in the building sector.