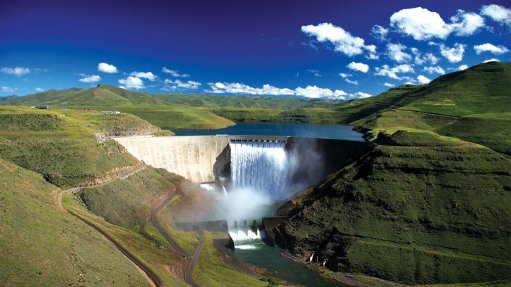 COMBINING INFRASTRUCTURE The R90-million water security project seeks to illustrate the complementarity and the support that ecological infrastructure offers built infrastructure
Nature-based and engineering solutions should be aligned and the value of ecological infrastructure must be recognised for water security, says South African National Biodiversity Institute (Sanbi) ecological infrastructure director Mahlodi Tau.
In May, Sanbi launched a R90-milllion Ecological Infrastructure for Water Security project which is backed by a five-year investment from financial organisation the Global Environment Facility (GEF). The Development Bank of Southern Africa is the project implementing agent for the GEF in South Africa on this project and Sanbi is the project executing agency.
Ecological Infrastructure for Water Security project leader Jenifer Zungu from Sanbi tells Engineering News that the project recognises that ecological infrastructure is not considered when planning infrastructure projects.
Ecological infrastructure is naturally functioning ecosystems that deliver valuable services to people, such as mountain catchments, rivers, wetlands, coastal dunes, and nodes and corridors of natural habitat, which together form a network of interconnected structural elements in the landscape.
"Nature actually provides some services for us and those services are for free, for example, the role that wetlands play in purifying water. We want all stakeholders that are involved in water resource planning to recognise the importance of these natural assets that we call ecological infrastructure," Tau enthuses.
Zungu comments that the project is also aimed at transforming the way people think about, value and invest in water and ecosystems, and aims to increase investment in the management of ecological infrastructure. "We seek to illustrate the complementarity and the support that ecological infrastructure offers built infrastructure," she notes.
Tau mentions that the current approach to planning, financing and developing water sector infrastructure fails to optimise water security through the adequate consideration of biodiversity and ecosystem services.
Zungu notes that the project seeks to address and consider ways in which it can influence policy and regulatory frameworks to take into consideration ecological infrastructure. She explains that Sanbi wishes to influence the country's water-pricing strategy by ensuring that ecological infrastructure is considered.
The project further aims to integrate biodiversity and ecosystem services into development and finance planning. The project will support this outcome by developing policy and capacity incentives for mainstreaming biodiversity and ecosystem values into national, regional and local development policy and finance in the water sector.
This will be demonstrated in two water catchments – the Berg-Breede catchment, in the Western Cape, and the Greater uMngeni catchment, in KwaZulu-Natal, where the application of these policies and financial mechanisms to improve water security will be tested.

These are two critical water catchments that supply water to South Africa's second and third largest cities that together generate a gross domestic product of about R400-billion a year and are home to more than 16-million people.
Moreover, the project will consider how the restoration and rehabilitation of the country's ecological infrastructure is being financed.
Maintaining and restoring healthy ecosystems, such as wetlands, rivers and other ecosystems that are the ecological infrastructure in catchments, helps to purify water, trap sediments, maintain baseflows and slow flood waters. This provides several benefits, including reducing the cost of providing clean water, reducing maintenance demands and limiting damage to built water infrastructure, Tau points out.
Zungu advances that a significant goal of the project is to get all the water sector partners to work in close collaboration. Sanbi will work closely with the Department of Water and Sanitation (DWS) over the next five years, as well as catchment level partners, and the City of Cape Town metropolitan municipality and the eThekwini metropolitan municipality.
Designed in close consultation with the DWS, the project will support the implementation of the National Water Resource Strategy and it is included as part of the Call to Action in the Water and Sanitation Master Plan.
Project implementation will be through various partnerships involving several other public, private and civil society organisations, such as the DWS, research organisation the Water Research Commission and nongovernmental organisation the World Wildlife Fund South Africa.
Sanbi is currently in the process of finalising contracts with key partners that will help with the implementation of the project, Zungu concludes.