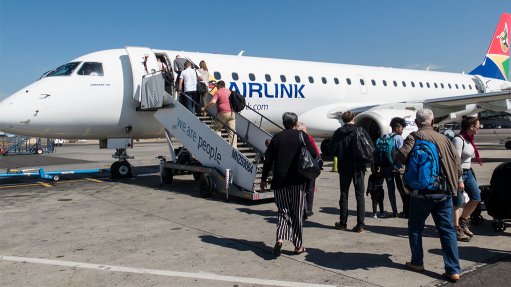 An Embraer E190 of Airlink
Photo by: St Helena Tourist Authority
South African private sector airline Airlink has announced that it will resume operations between its hub, Johannesburg's OR Tambo International Airport, and Botswana's capital city Gaborone on November 16. Two more Botswana routes will be reactivated next month, namely Johannesburg-Maun (from December 1) and Johannesburg-Kasane (from December 16.
The restart of services to Botswana has been made possible by that country's phased relaxation of travel restrictions, imposed to counter the Covid-19 pandemic. "Airlink is looking forward to re-establishing the vital services between Johannesburg and Botswana's three key destinations that sustain the all-important business, trade, tourism and family ties between the two neighbouring countries," affirmed airline CEO Rodger Foster.
Between Johannesburg and Gaborone, Airlink will operate two flights a day, each way, Monday to Friday. The Johannesburg to Gaborone flights will be flight coded 4Z172 (for the morning flight) and 4Z180 (for the afternoon flight). The Gaborone to Johannesburg flights will be coded 4Z173 (morning) and 4Z181 (afternoon).
The Johannesburg-Maun sector will be flown three days a week (Tuesdays, Thursdays and Saturdays), with one flight each way on these days. Johannesburg to Maun flights will be coded 4Z300 and the return flights will be under the code 4Z301.
The flights between Johannesburg and Kasane will also take place three days a week, again with one flight each way. However, this route will be operated on Mondays, Wednesdays and Fridays. The flight code for the Johannesburg to Kasane operations will be 4Z306 and 4Z307 for the return route.
All these flights will be able to seamlessly connect with Airlink's operations between Johannesburg and Cape Town and Johannesburg and Durban. Connections can also be made with Airlink flights to other destinations in South and Southern Africa, a network that is expanding as the airline restores previous routes and adds new ones.
Airlink highlighted that passengers must comply with both South African and Botswana health and safety protocols and regulations, aimed at containing Covid-19. The airline also stressed the high level of safety and biosecurity provided by the cabin air filtration and renewal systems on its aircraft, which block 99.97% of particles, including coronaviruses, and totally replace the cabin air every three minutes.