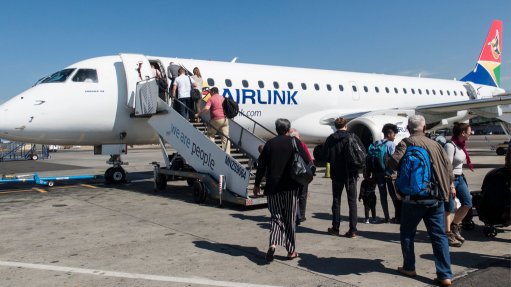 An Embraer E190 of Airlink
Photo by: St Helena Tourist Authority
South African private-sector airline Airlink has announced that it will start phasing back in its regional flight network, with effect from October 5. It also announced that it will soon institute a new regional route, to Mozambique.
On October 5 the airline will restart operations between Johannesburg and Harare, Zimbabwe. The flight will be daily, leaving Johannesburg at 10h30 and arriving at Harare at 12h10, with the return flight departing the Zimbabwean capital at 12h40 and landing at Johannesburg at 14h35.
On October 12 Airlink will restart operations on eight other regional routes. This will be Johannesburg/Bulawayo (Zimbabwe), Johannesburg/Lusaka and Johannesburg/Ndola (both in Zambia), Johannesburg/Walvis Bay and Cape Town/Windhoek (both in Namibia), as well as Johannesburg/Beira, Johannesburg/Pemba and Johannesburg/Tete (all in Mozambique).
The new route to Mozambique will also be inaugurated on October 12. It will be Johannesburg/Maputo, and will operate on Wednesdays and Fridays. The flight will leave Johannesburg at 13h45 and land at Maputo at 14h40, with the return flight leaving Maputo at 15h15 and arriving at Johannesburg at 16h25.
The company hoped to be able to make announcements on other regional routes in the near future. From Johannesburg, the routes concerned were those to Windhoek, Entebbe (Uganda), Dar es Salaam (Tanzania), Luanda (Angola), Lubumbashi (Democratic Republic of Congo), Gaborone (Botswana), Maun (also Botswana), Kasane (again in Botswana), Antananarivo (Madagascar), Nosy Be (also Madagascar), Vilanculos (Mozambique), Maseru (Lesotho), Manzini (eSwatini) and Livingston (Zambia). The routes from Cape Town were those to Victoria Falls (Zimbabwe) and Maun.
"Airlink knows that for our customers traveling during these stressful Covid pandemic induced [sic] times, personal safety is a major consideration," assured the airline. "Safety and well-being – yours an ours – remain our primary concern. Our aircraft are equipped with High Efficiency Particulate Air Filters, which are effective at blocking 99.97% of particulates, including Coronavirus molecules. These filters help to continually sterilise the air in our cabins, which is renewed every three minutes."
The airline also highlighted that all passengers must comply with government regulations aimed at combatting the spread of Covid-19. In particular, those coming to South Africa must present a negative Polymerase Chain Reaction test certificate, obtained from an accredited laboratory and not more than 72 hours before the flight.