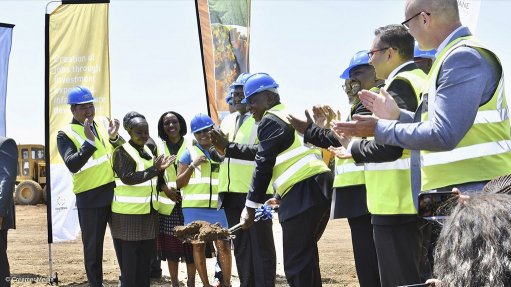 Automotive SEZ launch
Photo by: Creamer Media's Dylan Slater
The Automotive Industry Development Centre (AIDC) will deliver and operate Africa's first automotive city project, on behalf of the Gauteng provincial government.
The Tshwane Automotive City Special Economic Zone (SEZ) was launched by President Cyril Ramaphosa on Tuesday.
Eighteen companies have confirmed occupancy and nine had already confirmed plans to set up facilities by January 2021.
The AIDC, together with Ford Motor Company of Southern Africa, developed a mixed-use spatial development plan over the SEZ's 162 ha, with a design focus on it being a productive, living and green city.
The AIDC is the designated operator of the Tshwane automotive SEZ and is, therefore, responsible for the implementation of the project from the design to operational phase.
The automotive SEZ's total production impact will be R43.8-billion during construction. The first phase of Tshwane Automotive SEZ is scheduled to be completed by the end of 2020.
The Tshwane Automotive SEZ seeks to promote regional economic development and create decent work, as well as economic and social benefits for Tshwane North. The first phase of the developed alone will create 6 700 direct jobs.
The AIDC, the Gauteng Growth and Development Agency subsidiary, also played a leading role in the establishment of the Automotive Supplier Park, in Rosslyn.