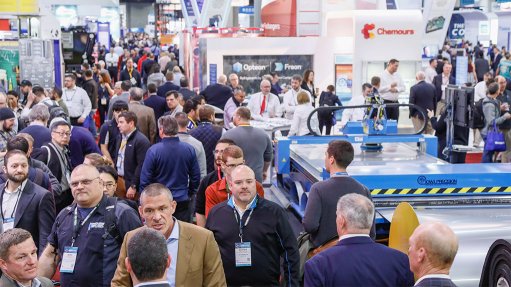 ENERGY FOR FUTURE OF HVAC The HVACR industry is in a exciting position at the moment and that energy was evident on the Show Floor this year
The latest advancements in technology and product advancement in the heating, ventilation and air conditioning (HVAC) industry were on display during the three-day 2019 AHR Expo that took place last month in Atlanta, the US.
For the first time since 2001, 1 824 companies from across the HVAC industry were exhibited, of which 497 were international companies.
"The HVAC industry is in a very exciting position at the moment and that energy was evident on the show floor this year," states AHR Expo show manager Mark Stevens.
The AHR Expo used radio-frequency identification technology at this year's event to authenticate attendance, which involved the scanning in of people without stalling the crowd and creating lengthy wait times. This allowed for accurate representation of every person who attended the event and spent time on the exhibitor floor and in education sessions.
This differs to previous years, in which the show would rely on pre-registration and on-site registration to quantify attendance. The attendance numbers for this year's event stand at 45 078.
"The planning of the show has always been focused on creating the best experience for our exhibitors and attendees. We recognised the benefit of verifying attendees long before the technology allowed us to do it in a way that didn't interrupt the experience we wanted to create for those who travelled to be here," says Stevens.
He emphasises that the show is for attendees and exhibitors to network, capture leads, learn, interact and focus on the event rather than wait at the gate to be scanned, and that the new verified technology allows the show to do just that.
Education Programme Highlights
The 2019 AHR Expo education programme covered a variety of topics in-depth, providing insights for all AHR stakeholders into market trends, business building tips, energy efficiency and best practices in the industry.
Research shown at the AHR Expo revealed the best way forward for smart home technology deployments. The upshot multi-dwelling units (MDUs) remain underserved owing to the varieties of end-user requirements. Despite this, they sit at the intersection of the single family – who benefits most from smart home innovation – and commercial buildings, sharing characteristics of each.
MDUs have the size to invest in new technology, a stronger connection to resident satisfaction and more direct involvement in senior management for investment decisions. This makes MDUs the ideal place where smart home innovation and experimentation can take root. This programme was presented by international intelligent home and building technologies organisation Continental Automated Buildings Association.
The education programme on cybersecurity was started by a call to action, emphasised by a roll call of blue-chip companies losing billions due to data breaches, including the $510-million department store retailer Target breach famously caused by a compromised HVAC subcontractor's personal computer (PC) and login credential. Attendees learned a step-by-step plan for developing a strong cybersecurity defence. Recommended best practices include separating network traffic for automation and control systems from the Internet and other operations; communications encryption and two-factor authentication for remote access; role-based access control limiting where people can go in the network; and integrating security and information and event management systems to help identify attacks before any damage is done. The show was presented by energy and software management company Schneider Electric.
A tutorial case study on growing sales for contractors explained how to deliver energy savings, as well as sell additional services, by expanding balancing tests and remediation services. The presentation showed how adding inexpensive tests provided additional diagnostics information that can help identify problems and create opportunities to sell correctional services. The results can improve system performance from 50% to 85% or rated and deliver energy savings.
The programme on green cooling emphasised the importance of policy on natural refrigerants in driving markets to replace high global warming potential (GWP) hydrofluorocarbons (HFCs). In the European Union (EU), a 1 000% increase in prices for high GWP HFCs is inciting a move to natural refrigerants in supermarkets. Owing to this, 16 000 of the 20 000 supermarkets in c-stores globally that use natural refrigerants are in Europe, while 3 500 are in Japan, and 370 are in the US.
Policy leaders in this area are the State of California, the EU and Japan, while China is starting to push for the use of natural refrigerants. This programme was presented by climate-friendly heating, cooling and refrigeration solutions market accelerator shecco America.
There were also education programmes on employee productivity and job satisfaction; reducing cooling operating costs; as well as indoor air quality for a healthy lifestyle.
The AHR Expo awarded its Product of the Year award for 2019 to air conditioning supplier enVerid Systems that also won the 2019 Innovations Awards Green Building category for its HVAC load reduction module 1000E-M.