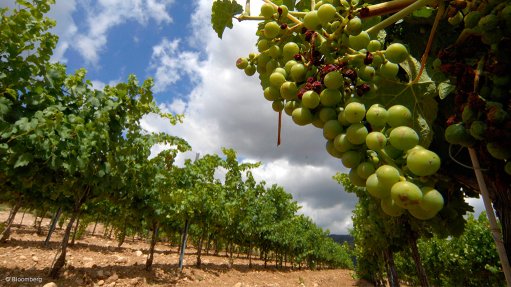 PARTICIPATION INCREASE The South African Fruit and Wine Industry Confronting Climate Change initiative focuses on supporting emerging farmers to calculate their carbon footprint
Photo by: Bloomberg
In addition to registering significant growth in the number of wine cellars calculating their carbon emissions, the South African Fruit and Wine Industry Confronting Climate Change (CCC) initiative has, over the past year, noted increased interest from other commodity groupings, such as grains and vegetables, in the initiative's carbon emissions calculator.
"The CCC has also registered overall growth in the number of carbon emissions datasets received for its benchmarking process, as well as increased interest in the high-quality data that has been collected and reflected in the CCC benchmark reports," says CCC project manager Anél Blignaut.
The CCC initiative, launched in 2008, focuses on agriculture, including citrus growers, wine growers and wine cellars, and aims to encourage information sharing and to ensure the availability of an on line carbon emissions calculator that growers use to accurately calculate their carbon footprint.
In calculating the agriculture sector's carbon footprint, the user assesses several factors, including but not limited to yearly electricity consumption figures, the litres of diesel used by vehicles and equipment and the amount of fertiliser and plant protection products used. It consists of three phases in which the initiative encourages participants to calculate their carbon footprint. Phase I and II have been completed.
Phase III of the initiative, which builds on Phase II, will run until January 2017, with the CCC continuing to strengthen its mandate and its endeavour to promote the continued uptake of the emissions calculator, says Blignaut.
Key focus areas of Phase III include strengthening the capacity and skills across the fruit and wine industries through both technical and train-the-trainer workshops to support users in the calculation of their carbon emissions. Further support outside the workshops is also provided. Phase III also aims to strengthen the industry benchmark database across all commodities through focused regional technical workshops.
Blignaut adds that this phase also places greater emphasis on underrepresented regions to ensure that more growers participate and to support emerging farmers in being able to calculate their carbon footprint.
Value Addition
The CCC is also investigating the addition of a carbon sequestration calculator.
"We are working with the Department of Agriculture to adapt the existing carbon emissions calculator for mixed small-scale farmers to ensure that their needs are addressed and that they can also calculate a quality carbon footprint," says Blignaut.
The carbon emissions tool has been adapted for wheat, in collaboration with the Better Barley Better Beer project, and is being piloted on grain farms, she adds.
The carbon sequestration calculator will also assess several factors, such as land rehabilitation, clean technologies and soil carbon. The tool is expected to be made available by midyear.
"This will enable producers to calculate their above- and below-ground carbon stocks. As many workshop attendees are requesting whether their carbon footprint can be offset by certain activities on their farms or along their supply chains, the carbon sequestration tool will be used in conjunction with the carbon calculator to determine the net carbon emissions," explains Blignaut.