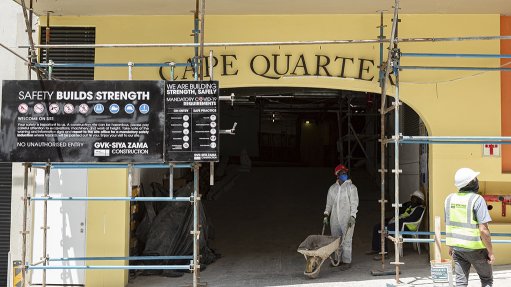 A particular challenge was the lack of space in the basement for the use of normal Class 3 formwork.
Variable ground conditions at an upmarket mixed-use development in Cape Town have demanded some innovative solutions from contractor GVK-Siya Zama Construction and readymix specialist AfriSam.
At the Old Cape Quarter project in De Waterkant, four floors of luxury apartments are being added to retail and office space, which meant substantial strengthening of the foundations and columns was needed to accommodate the increased load, says GVK-Siya Zama Construction contracts director Garth Robb.
He adds that "this was not a straightforward process", as there was insufficient space in the basement areas for normal Class 3 formwork.
"We made extensive use of biscuit columns, where we added reinforcing around the old existing columns and core-drilled at an angle from above – adding grout to beef up the column sizes," he explains, noting that the company core-drilled through the base to transfer the load onto the piling, with a number of columns and bases needing to be demolished and reconstructed.
A key complication was that concrete could only be poured manually into the biscuit columns by wheelbarrow, through 60 mm core holes from the slab above. Each column took up to an hour to pour, with admixtures accelerating the hardening rate of this highly fluid 60 MPa concrete.
"There was no option but for concrete to be delivered in smaller volumes, otherwise the concrete would harden in the trucks before it could be used," he avers, noting that AfriSam worked closely with the company to find a solution, which was to deliver just 1 m3 of readymix at a time.
Readymix trucks usually carry 6 m3 to 8 m3, so carrying just a fraction of this had significant implications for efficiency. However, the situation demanded flexibility from both partners, says AfriSam territory manager Melanie Ross, who emphasises that "the needs of the customer had to come first".
"Also, the pours could only start in the afternoon, and often continued beyond the 18h00 deadline agreed between the contractor and the authorities," says Ross. "So extended permissions were obtained, and the AfriSam-contracted drivers agreed to put in the extra time until pours were completed."
AfriSam supplied over 9 700 m3 of readymix to the Old Cape Quarter project, and about ten different concrete mixes for different applications. These came from the company's Woodstock plant about 8 km from site and its Peninsula Quarry plant at Durbanville.