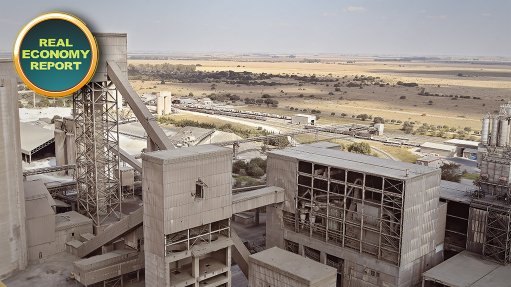 From Creamer Media in Johannesburg, this is the Real Economy Report.
Sashnee Moodley:
JSE-listed diversified materials company AfriSam has implemented various initiatives to reduce its carbon intensity and developed responses to limit the impact of a carbon tax. Schalk Burger has the story.
Schalk Burger:
AfriSam is using its most efficient plants and production lines to reduce, as far as possible, the carbon intensity of its products and limit the impact of the imminent implementation of a carbon tax.
During a tour of AfriSam's Dudfield cement plant, in North West, the company mentioned that it has developed plans to recapture heat from its cement kiln to generate electricity, but adds that it cannot afford the capital expenditure to build it without an incentive or funding support from government programmes.
The production of clinker, the main ingredient of cement, from calcium carbonate releases carbon dioxide during the chemical reaction, and a carbon tax will impact on the prices of the company's products.
To this end, AfriSam has estimated the impact of the carbon tax on its products and has communicated this to clients ahead of the implementation of the tax.
AfriSam Cementitious Executive Hannes Meyer provides details about the company's efforts to reduce carbon emissions and possible electricity generation and electricity offset projects the company is exploring.
AfriSam Cementitious Executive Hannes Meyer:
Sashnee Moodley:
That's Creamer Media's Real Economy Report. Join us again next week for more news and insight into South Africa's real economy. Don't forget to listen to the audio version of our Engineering News daily email newsletter.