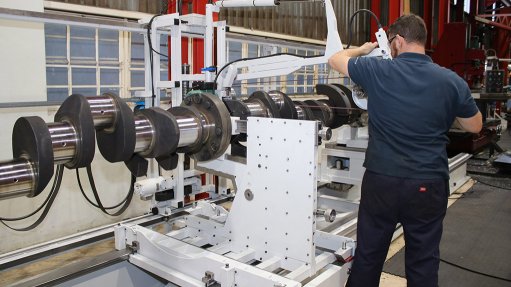 Leading diesel engine component remanufacturer Metric Automotive Engineering is once again ahead of the curve, installing and commissioning the largest crankshaft polishing machine in Africa.
"This custom engineered, one-of-a-kind machine is capable of accommodating crankshafts with lengths of over six metres," says Andrew Yorke, operations director at Metric Automotive Engineering. "It represents our philosophy of investing in the latest bespoke and best practice technology, so that we can offer our customers around Africa a world-class standard of service."
Yorke says that while crankshafts have traditionally been ground and then polished on grinding machines, this is certainly not the ideal solution.
"Polishing debris contaminates the crank grinding machine and this can lead to accelerated wear on critical areas of the machine," he says. "Moreover, not all crankshafts need to be both ground and polished; some only need polishing, and doing this on a grinding machine is not the best use of this asset."
Metric Automotive Engineering's dedicated polishing machine will significantly raise the company's productivity, enabling even more rapid turnarounds on those crankshafts that require only polishing and not grinding.
"We will also employ this machine to polish camshafts after the re-profiling of the component, or if the journals and lobes only require a polish and not a re-profile," says Yorke. "Polishing of these components after grinding is vital, as it removes grinding burrs and ensures that the surface finish is ideally matched to the requirements of the bearing materials they run on."
He emphasises that, in the case of crankshafts and camshafts, there are journals which run on the bearings and lobes which have roller followers carrying high loads. These require the best possible surface finish in order to prevent roller skidding or seizure.
"By polishing these journals and lobes to the correct surface finish, we can return them to OEM specification or better," he says. "In turn, this leads to improved component performance and longer engine life."
The company remanufactures heavy diesel engine components for a range of different end-user industries, and has developed a long and impressive track record over almost 50 years.
It has generated its extensive capabilities by staying abreast of the latest global developments in diesel engine technology. To ensure the highest standards and expertise, it also maintains close affiliations to the leading diesel engine OEMs.
Repairing and remanufacturing modern diesel engine components to their original OEM specification is an exacting science, says Yorke, and requires long-term development of expert skills and ongoing investment in specialised equipment like this state-of-the-art polishing unit.