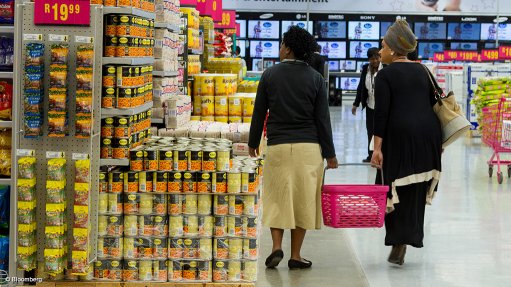 Photo by: Bloomberg
Researchers are forecasting that many African consumers will radically transform their diets over the next few decades, moving increasingly to more processed food.
Demand for processed food in Africa is expected to increase seven times over the next 25 years, according to a study by Michigan State University's Department of Agricultural, Food and Resource Economics.
Bottled beverages, canned food, fresh produce and ready-to-eat prepared food will be in demand, with the sector to become much more energy- and water-intensive.
"Changes in the way we buy and eat food will be sparked by a rising consumer class, rapid growth in urban populations and income growth.
"Poorer households will consume comparatively less processed food, but demand will still increase. The trends will be seen broadly in rural and urban areas and across income distribution," professor of International Development at Michigan State University David Tschirley told the Agribusiness & World Food Forum in Cape Town.
He said traditional marketplaces would need to adapt and upgrade if they wanted to remain competitive. Currently, 90% of all food in Africa, north of South Africa, was bought in traditional food markets.
"We need transformation, not only in the modern sector, but [also] the traditional sector, to produce better food," said Tschirley.
Besides the big players, small- and medium-sized farms and companies would need help to produce food at lower cost.
There will also be far more opportunities in agri-business.
Agribusiness company Olam International president and regional head Moochikal Ramesh said there was a huge disparity between imports and exports of food in Africa, with the continent exporting $45-billion of agricultural products and importing $81-billion in agricultural products.
He said the food gap was also prevalent in basic commodities, such as maize, rice and edible oils.
There was a massive need to upgrade skills and boost farming in Africa. Ramesh said it would take $55-billion of investment in agriculture in Africa to bring it up to the level it needs to be at.
Woolworths Stores retail operations group director Paula Disberry told the forum that the sector needed to be far more consistent and had to move faster than it currently was to be successful.
"It will require a complete transformation of the value chain in terms of scale and quality," she said.
"It takes a longer-term view. It took us 30 years to build the value chain we rely on now. This won't be a short-term win," said Disberry.
African Fertiliser and Agribusiness Partnership VP Richard Mkwandawire, meanwhile, said he would like to see more support from government for the private sector.
"Infrastructure development is in a state of chaos across Africa, whether it is in electricity or in road networks. There is a need for more policy interventions," he stressed.