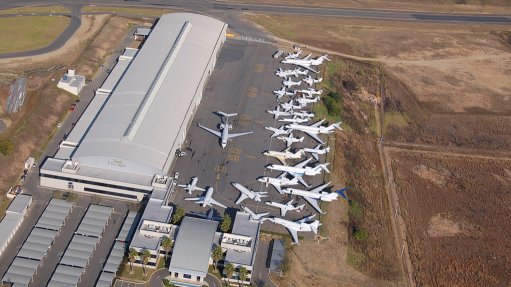 A wide range of business aircraft parked at ExecuJet's facility at Lanseria International Airport, north west of Johannesburg
Photo by: ExecuJet
The five-year-old African Business Aviation Association (AfBAA), which was founded in May 2012 and currently has 121 members, has become the fifteenth member of the International Business Aviation Council (IBAC), which is the global industry association for the business or executive aviation sector. IBAC, set up in 1981, holds permanent observer status at the International Civil Aviation Organisation, which is a specialised agency of the United Nations.
"We are delighted to have been confirmed as the latest member of this prestigious organisation, it is a major milestone for us and one that we have worked hard to achieve," affirmed AfBAA CEO Rady Fahmy. "We look forward to collaborating with our fellow members from around the world to continue to improve standards in Africa, and worldwide. It is a very exciting development for us."
"We are very pleased to welcome AfBAA into the IBAC family," stated IBAC director-general Kurt Edwards. "We aim to serve the varying needs of international business aviation and can only achieve this with the participation of the official organisations that represent the increasing value of business aviation across all regions of the world. We're seeing growth in the number of African companies that demonstrate their commitment to safety and professionalism by achieving IS-BAH [International Standard for Business Aircraft Handling] and IS-BAO [International Standard for Business Aircraft Operations] registration."
In addition to IS-BAH and IS-BAO, IBAC also promotes and manages best safety standards and practices systems called the Safety Management Tool Kit, SMS eLearining (for training) and the Aircrew Identification Card. "We look forward to working with AfBAA to further advance safety excellence across Africa," he added.
In its press release, AfBAA noted that it would join with the other IBAC member associations to ensure that there was a "single voice" promoting world-wide standards, policies and best safety practices for business aviation. The African body's membership of the global association took effect immediately it was voted on to IBAC, on November 17. IBAC's head office is in Montreal, Canada.
"AfBAA's primary objective is to promote the understanding and benefits that Business Aviation provides for the continent's economic development and prosperity through advocacy," it explained in its press release. From November 29 to December 1, AfBAA will be holding its inaugural conference (one day) and exhibition and workshops (over two days), jointly known as AfBAA Expo17.