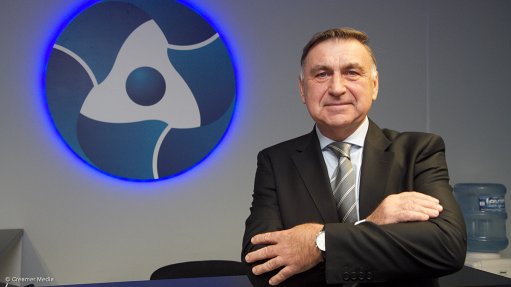 Viktor Polikarpov
Photo by: Duane Daws
Sub-Saharan Africa has a real need for, and rapidly growing interest in, nuclear power. This was affirmed by Rusatom International Network regional VP: sub-Saharan Africa Viktor Polikarpov at the Nuclear Africa 2017 conference on Wednesday. Rusatom International Network is part of Russia's Rosatom nuclear group.
"Africa's major hurdle to success is its ongoing energy crisis," he highlighted. "Twenty-five of 54 nations have been declared to be in an energy crisis by the World Bank. Over 620-million people have no access to a reliable source of electricity in sub-Saharan Africa."
Excluding South Africa, the region's total installed electricity generation capacity is equivalent to that of Argentina. Including South Africa, it is equivalent to that of Spain.
On the other hand, Africa is experiencing significant and accelerating infrastructure development, industrialisation, economic growth and urbanisation. It is also seeing increasing investment in education and science, rising environmental consciousness and growing political stability. "Drastic changes are taking place," he affirmed.
Sub-Saharan Africa will require 1 600 TWh of generating capacity by 2040, which is four times the amount possessed in 2010, if it is to achieve an electrification level of 70% to 80%. "Nuclear is the only solution," he stated. "Regarding the 'Energy Trilemma' – the environment, economics and security of supply – out of all the types of generation, nuclear is the only one that ticks all the boxes."
Russia now has intergovernmental agreements on the peaceful uses of nuclear power with Ghana, Kenya, Nigeria and Zambia as well as South Africa. Rosatom also has an agreement with Tanzania regarding the Mkuju River uranium project.
Nuclear is not new to Africa. Sub-Saharan countries which have research reactors are Ghana, Nigeria and South Africa. "Zambia is planning a nuclear university," he reported. "Zambia is sky-rocketing with regard to nuclear development. Kenya is also making rapid progress."
Under the agreement between Moscow and Lusaka, Rosatom will establish a Centre for Nuclear Science and Technology in Zambia. This will include a research reactor, a radioisotope production complex, a process complex (including chemical, neutron and radiation technologies), a nuclear medicine facility and an engineering complex.
The agreement with Nigeria covers both the construction (and later decommissioning) of nuclear power plants and the setting up of a Centre for Nuclear Science and Technology. Such centres are on offer for other African (and non-African) countries as well. "We understand that it will take time for Africa to become nuclear," he said. "But Africa can go nuclear faster than generally assumed."
"Nuclear is not only about the cost. It is also about the value. Nuclear is the most sustainable source of energy. A nuclear power plant is like a house you build on a mortgage and then generations of your family benefit from it."