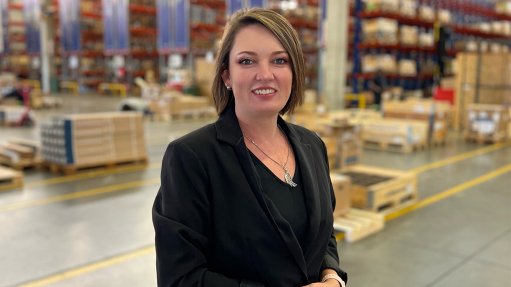 Grundfos Africa supply chain director Sanett Nel
The unexpected recent Covid-19-related lockdown in Shanghai, China, coupled with the war in Ukraine and lasting Covid-19 impacts in various other regions of the world, is exacerbating what is an already constrained and disrupted global supply chain, says pump manufacturer Grundfos Africa.
Supply chain director Sanett Nel tells Engineering News & Mining Weekly that raw materials supplied out of Ukraine and Russia that are used to produce products in China and Europe for imports into Africa, are experiencing supply shortages and price increases.
China on March 28 started implementing its biggest city-wide lockdown yet, with restrictions happening in two phases across the eastern and western sides of Shanghai, to carry out Covid-19 testing.
If the lockdown in China is extended for a considerable time, and the conflict in Ukraine does not subside, she says South Africa will see further increases in transportation costs and commodity costs in general, as well as the undersupply of certain commodities.
At the moment, food, oil and gas, and select metals such as nickel, are experiencing shortages, delays and price increases.
This has immense knock-on impacts for companies, particularly manufacturers and suppliers in South Africa, including changes to logistics setups, diverted shipments and delayed transportation.
Nel mentions that premium freight – such as air freight – will be used more often to improve delivery of critical items, but at a high price that will have to be carried by companies or passed on to consumers.
Moreover, she says companies can experience inventory fluctuations, higher lead times and sales losses.
Ultimately, it could potentially lead to perceptions of poor customer service and, subsequently, reputational damage.
Nel says industries most likely to be severely impacted by the supply chain disruptions are electronics, aerospace and automotive.
To this end, Grundfos suggests that companies, sooner rather than later, revisit their supply base to identify alternative sources of products or implement multi-sourcing strategies.
This will enable companies to source from multiple suppliers in multiple locations, instead of relying on a single or select few suppliers, as is often the case in the South African business sphere, she explains.
"The just-in-time model will have to be replaced by a safety buffer and safety stock, and the model may well have to change to just-in-case on critical materials and components to ensure product availability."
Globally, the Denmark-headquartered Grundfos group has noticed material price increases in some of its raw materials, as well as delays in the procurement of stainless steel and cast iron components, owing to nickel supply issues arising from Russia's invasion of Ukraine.
Closer to home, Grundfos has not been impacted much by disrupted supply chains or delayed shipments yet; however, the company is experiencing continued impacts from Covid-19 in Europe, where shipments are sometimes delayed.
Grundfos Africa, as part of its risk mitigation strategies, is seeking alternative suppliers and using different foundries around the world, where possible, to increase capacity, raw material stock and finished goods stock.
Nel says crises such as the Ukraine conflict and Covid-19 have reinforced for the company the importance of proper risk mitigation and preparation, as well as the importance of using local content, instead of relying on international suppliers, where possible.