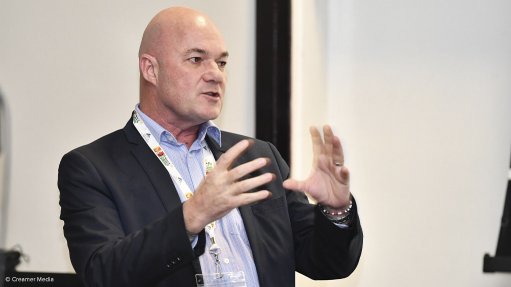 Africa House director Duncan Bonnett
Photo by: Creamer Media's Dylan Slater
While the African Continental Free Trade Agreement (AfCFTA) may provide African countries, including South Africa, with an opportunity to expand their manufacturing capabilities, Africa House director Duncan Bonnett has questioned if South Africa is ready to take advantage of the opportunities presented by the agreement.
Implementation of the AfCFTA could see Africa's total intraregional trade increase by $16-billion immediately, while up to $50-billion of nontariff barriers would be addressed, he told delegates attending the Metals and Engineering Indaba, in Sandton, on Thursday.
Currently only about 15%, or between $85-billion and $100-billion, of Africa's total trade is intraregional.
South Africa's share of regional markets was, however, on the decline, said Bonnett.
Nevertheless, South Africa had in its favour instruments and influence through regional memberships, proximity, suitability of products and services, as well as the ability to service the markets flexibly, he pointed out.
He also noted that, considering that about 44% of South Africa's exports go to the Southern African Customs Union region, the AfCFTA could help redress some of the imbalances in South Africa's exports to North, East, Central and West Africa.
This would be beneficial for the country, he added, especially on the back of the scrapping of certain duties.
Fixing this imbalance through the AfCFTA could not only be up to government, he stated, adding that individual companies, various business chambers, export councils and even development finance institutions all had a role to play.
He further stressed that South Africa should not underestimate what was involved and could not simply "export its way out of trouble", but would need an increasing presence in key markets to sustain its exports.