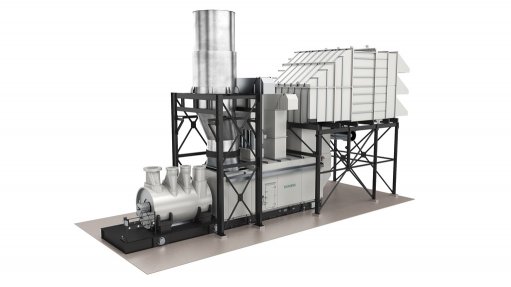 EFFICIENT DESIGN Siemens aero gas turbines have a cycle efficiency that is typically 1% to 3% better than that of traditional industrial gas turbines
Aeroderivative gas turbine technology could provide an economical and efficient accompaniment to wind, solar and tidal power generation, particularly as these technologies depend on unpredictable weather.
Global engineering firm Siemens sub-Saharan Africa power and gas executive VP Andreas Pistauer asserts that the company's aeroderivative gas turbine technology is a flexible, economical and efficient backup to around-the-clock renewable-energy power generation, ideal for peaking, midmerit or baseload operations.
Siemens aerogas turbines are derived from turbojet or turbofan technologies, designed for use in civil and military aircraft, and are relatively new to the African power generation sector, which is accustomed to industrial gas turbines. Overall, Siemens aerogas turbines have a cycle efficiency that is typically 1% to 3% better than that of traditional industrial gas turbines. The technology employs a multispool design, where each spool rotates at its own optimal revolutions per minute for increased efficiency across its operating range. The turbines boast high-cycle capability and can be started up in ten minutes, or even less, if required, with no lockout timers after a shutdown, be it a normal or emergency shutdown. Electrical start-up is 500 kW, the equivalent of a small site backup generator. These features bring the power closer to the operator, which can respond instantaneously and follow load requirements, with no impact on the equipment's maintenance cycle or increase to its maintenance costs. For example, Siemens' Rolls-Royce Aero Trent 800, which has more than 24-million flying hours in civil aviation applications, can be converted into the power-plant-specific Industrial Trent gas turbine by replacing the fan with a two-stage low-pressure compressor with matched flow capacity. The Industrial Trent features three shafts – HP, IP and LP – that rotate independently and are environment friendly, as it is available in dry and wet low-emissions cycle operations, with flexible maintenance solutions available to ensure increased return on investment. Another important aspect of aerogas turbine technology is its reliability and endurance under stress. The Industrial Trent requires no engine overhaul, as hollow shafts eliminate rotor bow, while high nickel casings eliminate stress. Using titanium in the fabrication of the technology also reduces weight, thereby allowing for a higher power density. Operational expenditure is further reduced because of anti-friction bearings, which require less lubrication, as the ball bearing design is also lightweight, with low oil flow and consumption. Siemens aeroderivative gas turbines can be used in open-cycle, cogeneration and combined-cycle power plants, with the key emphasis being on having a power plant that offers greater operational flexibility.