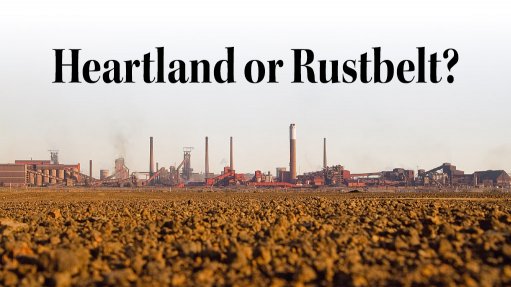 As one travels about 60 km south of Johannesburg through Vereeniging and Vanderbijlpark, a general state of decay is visible in the once thriving industrial heartland known as the Vaal Triangle.
The area comprises the triangular area bordered by and including Vanderbijlpark, Vereeniging and Sasolburg, in which major industrial manufacturers have established themselves over decades. This region is a strategically crucial industrial manufacturing hub in the large-scale production of key commodities such as steel, ferroalloys, fuel and chemicals, as well as a range of downstream activities.
Its reputation as an industrial heartland still rings true, but is also on the wane. The regional manufacturing capability of the Vaal Triangle has been diminishing, evident in dilapidated industrial premises, scaled-down facilities, failing infrastructure and closed shops, with a general state of disillusion pervasive among the region's unemployed.
However, it is yet to reach the proverbial 'point of no return' and can, therefore, be salvaged before it is too late, which is reflected in a call by industry lobby group the Manufacturing Circle for an urgent intervention. It is proposing that government – through the Department of Trade and Industry (DTI) – proclaim the Vaal Triangle a special economic zone (SEZ), thereby according special business rights to industrial manufacturers in the region. This will promote, the grouping argues, investment by existing businesses and attract new enterprise, which will, in turn, create jobs and lead to the general upliftment of the region.
The Manufacturing Circle is concerned about the number of plant closures, the slow rate of investment, major plants' viability being under threat and the associated negative social consequences.
It notes that the high cost of electricity is impeding industry's ability to operate in the same way it did when electricity was readily available and cheaper. Labour costs are also increasing, even as gross domestic product growth is sluggishly.
SEZ Status
Manufacturing Circle chairperson André de Ruyter tells Engineering News that SEZ policies can be implemented in the Vaal Triangle on a practical level, and quickly too, owing to the SEZ Act and an already existing policy document that only requires its adaptation to the Vaal Triangle area.
"This is not a moon shot. It is realistic; it can be done . . . all it requires is sufficient political willpower and buy-in," he avers.
Declaring the Vaal Triangle an SEZ would likely result in incentives for certain activities, thereby encouraging existing businesses to invest more in their future in addition to attracting investors into the region. This would spur the training of existing and new personnel and investment in new, modern machinery with the assistance of specialised tax incentives, such as the 12l Income Tax Allowance, which incentivises companies to invest in energy efficient equipment to reduce their carbon footprint.
Increased investment will result in new blue-collar job opportunities, De Ruyter says. "It is these types of jobs which have the greatest influence on a country's economy, as the working class increases and it is exposed to more disposable income." This increase in circulating money will filter down to other sectors, such as schooling, automotive and retail.
There is a typical multiplier effect associated with these high-level manufacturing jobs, as one such a job creates between five and ten downstream jobs in response to the stimulus created by an increase in disposable household income, depending on the level of the job, he adds.
De Ruyter admits that the Vaal Triangle's inland location is not ideal for an industrial manufacturing hot spot (especially in terms of steel and petrochemicals manufacture), but strategic decisions made by past governments (before democracy) have led to the region being home to various significant manufacturing companies, including steel manufacturer ArcelorMittal South Africa (AMSA), petrochemicals company Sasol, chemicals producer Omnia, plastics manufacturer Safripol and packaging company Nampak.
He points out that infrastructure in the Vaal Triangle has been developed specifically for industrial applications, with an extensive array of rail lines, bulk electricity offtake options, roads and bulk water infrastructure. The area boasts an "impressive array" of social infrastructure, including primary, secondary and tertiary educational facilities and hospitals, with trade unions also having a strong presence in the region to support members, he explains.
However, one of the major challenges of having an SEZ is establishing clear boundaries for the zone, as well as identifying the companies that would benefit, and how, precisely, they would benefit.
Reviving a Legacy
Sanctions imposed on South Africa during apartheid led to the country increasingly seeking ways of being self-sufficient, which, in turn, resulted in the establishment of significant manufacturing capacity and the development of unique manufacturing capability. In this unique example of what could crudely be said to be what today is usually referred to as a developmental State, industrial manufacturers flourished, many of which started in the Vaal Triangle.
Currently, it is evident that, during the past decade, the manufacturing sector's contribution to gross domestic product (GDP) has declined from about 28% to less than 13%.
De Ruyter says this percentage should currently be about 30% to ensure sufficient national employment and meaningful contributions to GDP, and to enhance the country's export potential and international export image.
According to a 2015 report by global management consulting firm McKinsey & Company, advanced manufacturing should be expedited, with the firm averring that South Africa can draw on its skilled labour to develop into a globally competitive manufacturing hub.
This hub should be focused on high-value-added categories such as automotive, industrial machinery and equipment, and chemicals. However, McKinsey suggests that South African manufacturers pursue new markets, and step up innovation and productivity to realise this opportunity.
Extrapolating from where South Africa should be in terms of manufacturing capacity and what that could mean in terms of employment, De Ruyter says a major uptick in manufacturing capacity could create 800 000 to one-million jobs.
He rates local automotive manufacturing capability as world class, with several models being exported to overseas markets to meet international demand.
This South African manufacturing spirit and quality can be easily replicated in other manufacturing sectors, even by companies operating in the Vaal Triangle, thereby creating opportunities for them to get exposure to export markets and increase local output, De Ruyter highlights.
Playing Their Part
One of the largest manufacturing role-players in the region is steel manufacturer AMSA, which has started an artisan and entrepreneur training programme.
AMSA Transformation Centre of Excellence group manager Freddie Swart tells Engineering News that, should Vanderbijlpark, where the company operates its facility, fall within an SEZ, with special incentives to train personnel and develop entrepreneurs, it would assist the company in accelerating its programmes for unskilled and currently unemployed people in the Vaal Triangle.
"I certainly do think this SEZ declaration would be a great opportunity to develop this area."
Towards the end of 2016, AMSA earmarked a portion of land it owns at its Vanderbijlpark operation for the development of an industrial incubation hub, with the primary focus on training people and helping them become successful entrepreneurs.
This R30-million project involves the mentoring of 12 students in two-year cycles (on an ongoing basis), with funding being provided equally by AMSA and the DTI. "The aim of the project is to ready technical entrepreneurs for the mainstream manufacturing industry," says Swart.
In addition, AMSA made a second investment, in its business park, which is also on the premises of its Vanderbijlpark facility. He says this facility is currently 50% complete and is due to be finished sometime this year.
The first two anchor clients are already operational at this site, dealing with scrap metal processing and the manufacture of personal protective equipment respectively. Once completed, this business park will comprise five business development opportunities, including the two aforementioned, office buildings, network conference rooms/training facilities and another venture still to be decided by AMSA. The incentives obtained through SEZ structures would also go some way towards catalysing and extending the park's development.
The AMSA Vanderbijlpark business park will be modelled on AMSA's existing incubation hub and innovation centre, as well as its Newcastle and Saldanha business parks.
The DTI did not respond to questions on the proposal, but has an ambitious reindustrialisation vision, as outlined in the Industrial Policy Action Plan. The department has also shown an appetite for reviving old industrial parks, which makes it theoretically possible for an intervention in an established industrial region.
In addition, the Gauteng administration has placed industrialisation at the heart of its city-region economic vision, known as TMR, or 'Transformation, Modernisation and Reindustrialisation'.
Premier David Makhura has stated that manufacturing will continue to receive his full attention as part of the reindustrialisation drive. "We will focus on those manufacturing subsectors and industries which have huge employment, empowerment and export potential in our economy," he stated last year.
It remains to be seen, though, whether the desire among private investors in the region for an urgent intervention can be fully aligned with the national and provincial initiatives already under way.