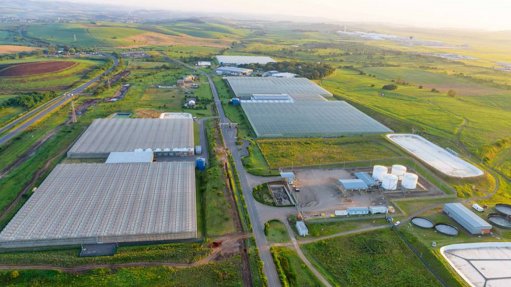 WEED FOR PURPOSE Since its establishment, House of Hemp has been targeting research on all cannabis-related markets such as textiles, fibres, oil, nutrition and medicinal
International investment company LGC Capital, with its joint venture global logistics solutions company AfriAg, signed an agreement to acquire a 60% interest in South African cannabis product manufacturing company House of Hemp.
With the agreement signed in July, LGC CEO John McMullen says this is an important deal that launches LGC straight into the global medical cannabis sector.
House of Hemp's 40 000 m2 glasshouse complex at Durban Airport, in KwaZulu-Natal, is the only certified cannabis growing and processing facility in South Africa.
"This is an opportunity to move towards production quickly, owing to the facility already being in operation."
This operation is ideal for large-scale cultivation and processing of cannabis with its humidity and temperature controlled environments.
McMullen says this opportunity can provide a global competitive edge for the companies involved, since the operation requires minimal capital cost going forward and has plenty of scope to cheaply increase the growing footprint within the Dube TradePort AfriZone, where House of Hemp is located.
"From an operating cost perspective, South Africa has a highly skilled labour force and the unit costs of electricity, labour and fertiliser are globally competitive.
House of Hemp has an established history of high-quality research and development initiatives in the hemp and cannabis field.
McMullen notes they plan to leverage this knowledge and use their skills to grow medical cannabis in other African regions and beyond, eventually.
House History
The House of Hemp has a long-term lease on the only certified indoor growing facility in South Africa for cultivation of Cannabis Sativa for research purposes, which includes growing, extraction and packaging.
Its Greenhouse Block D site is a fully equipped, temperature regulated and humidity controlled greenhouse under glass with associated support infrastructure, which comprises refrigerated pack houses, laboratories and offices.
The departments of Agriculture and Health awarded House of Hemp its exclusive permit in 2010 to legally cultivate and process hemp and cannabis products and its licence includes importing cannabis seeds and products.
Since its establishment, House of Hemp has been targeting research on all cannabis-related markets such as textiles, fibres, oil, nutrition and medicine.
The Transaction
LGC and AfriAg, upon signing the acquisition agreement with House of Hemp, committed to an initial payment of C$19 595 in July. Additionally, the two companies also paid C$37 000 to cover August's overheads, salaries and growing facility lease payments.
LGC and AfriAg will continue to pay C$37 000 monthly for six months to keep House of Hemp fully funded while completing the transfer of interest documentation and to allow sufficient completion time for investigative studies on starting scalable production.
As part of the acquisition, the two companies have also committed to secure the necessary C$4.9-million estimated to start large-scale trial production within the Dube TradePort Block D greenhouses as soon as development plans are finalised.
Strategic Partners
In June, LGC announced its strategic partnership with AfriAg and jointly aims to develop a fully regulated cannabis growing and processing industry in the Southern Africa region for export to certified and regulated end- users globally.
AfriAg will assist LGC with securing significant agricultural land packages and processing facilities in the region to grow cannabis crops and produce, including seeds, cannabis extracted oils, dried marijuana leafs, cigarettes and vapours.
LGC considered AfriAg a logical choice, owing to its extensive experience with managing agriculture operations such as greenhouse cultivation. AfriAg also owns and manages certified facilities and is one of the largest Southern African distributors of perishable food products by airfreight globally.
Grounds for Development
Dube TradePort's AgriZone is Africa's first integrated perishables supply chain and the most technologically advanced future-farming platform on the continent, states McMullen.
"This agricultural development is host to the largest climate-controlled glass covered growing area in Africa."
It aims to stimulate the growth of KwaZulu-Natal's perishables sector and affords the opportunity to achieve improved agricultural yields, consistent quality, year-round production and effective management of pests.
The facility's primary focus is on the production of short shelf-life vegetables and other horticultural products, which require immediate post-harvesting airlifting and supply to both domestic and export markets.
Phase 1 of its current development comprises 16 ha of greenhouses, dedicated post-harvest pack houses, a central packing and distribution centre, a nursery and a sophisticated plant tissue culture laboratory.