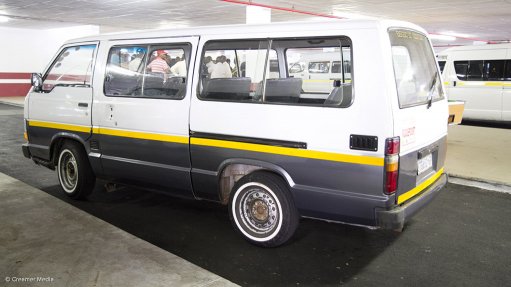 TAXIS STRIKING An ongoing problem for the bus industry is intimidation by taxi operators
Photo by: Duane Daws
The Southern African Bus Operators Association (Saboa) believes that its planned Driver Training Academy will alleviate some of the issues the bus sector is facing.
Speaking at the Gauteng Bus Indaba and Strategic Planning Workshop, held in September, Saboa executive manager Eric Cornelius said this academy had been under consideration by the organisation for a while, since its workshop on driver behaviour in 2014. Saboa's council then decided to consider the possibility of establishing a Driver Training Academy (DTA) for the bus and coach industry.
Saboa is working towards having the DTA operational during the first half of 2018. Although it will have an office in Johannesburg, the actual training will be done by existing training centres throughout the country that have been accredited by the DTA. "The objective is not for Saboa to construct a building where operators will be trained; rather, it is to set a standard for training in the industry that is on a par with international standards, supplementing existing training centres and academies to achieve this desired standard."
Cornelius emphasised that one of the objectives of this academy would be to reduce the number of road fatalities, as these were exceptionally high and had been for a number of years.
"It is clear that what has been done to date in an attempt to reduce this number is not working, because we have not seen an improvement in the number of road fatalities, and, therefore, something has to be done to change this. We have taken the responsibi­lity to establish this academy so that, from our side, we can do whatever is possible to assist."
Once established, the academy will assist with transformation. Cornelius indicated that, in terms of the black economic-­empowerment requirements, the bus industry is constantly urged to ensure that more black women bus drivers are employed, as well as women involved in the mechanical side of the industry. He is hopeful that, through the academy, these aspects will be promoted.
Moreover, Saboa is also actively involved in the market enquiry into public transport by the Competition Commission, road traffic regulation developments, the road transport management system, the review of the 1996 White Paper on National Transport Policy and resolving taxi intimidation, as well as the empowerment and training of small, ­medium-sized and microenterprises (SMMEs).
Cornelius highlighted that the training academy would also aim to provide a special dispensation for Saboa's SMMEs members to ensure that they receive high-quality training at an affordable price.
"Empowerment of SMMEs is vital to Saboa and the industry, with 96% of our members being SMME operators. In light of this, it is imperative that the organisation supports the transformation and empowerment of these members."
Saboa has also appointed a high-profile national empowerment committee consisting of council members to deal with the empower­ment of SMMEs. Cornelius did, however, note that this was a "daunting" task, as the committee had to deal with empowerment in all the provinces of the country. A budget for undertaking this has been provided by Saboa, and the committee is moving forward with this task. To support the national empower­ment committee, provincial empowerment committees are now being established in the provinces to expedite the empowerment process.

Managing Taxi Intimidation
Cornelius expressed concern about the ongoing intimidation of bus operators by taxi operators: "This issue has been prevalent for a while, and the organisation brought it up at an Indaba held in 2016 as well. A number of measures were taken subsequent to this, with Saboa involved in a number of activities to tackle this problem."
Saboa has been liaising at Ministerial level with the departments of Transport and the Police since 2016 regarding this issue and has requested a meeting with current Police Minister Fikile Mbalula to discuss this issue.
The organisation has also liaised with the Department of Transport, as well as some provincial departments, the South African National Taxi Council, the National Taxi Alliance and the Public Protector.
Saboa has raised the issue with metropolitan councils and requested stricter law enforcement, especially at taxi ranks, as a lot of intimidation takes place here as well.
"Saboa will continue to address this matter to find a solution. This is not an easy thing to deal with, but we will continue our efforts."