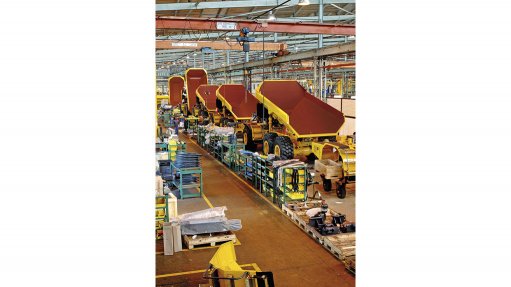 With 65 years of experience designing, manufacturing and distributing heavy equipment in Africa for African conditions, Bell Equipment has shown immense resourcefulness to weather the cyclical nature of the industry and build an internationally reputable brand, and a South African success story.
The Articulated Dump Truck (ADT) is the group's core product and Bell is acknowledged globally as an ADT specialist offering customers the largest and most advanced range. Bell Equipment's latest generation E-series trucks lead the pack in terms of technology with features such as keyless ignition, HillAssist, Bin Tip Prevention, Auto Park Application, standard Turbo Spin Protection and On-Board Weighing provided as standard.
Adhering to ISO 9001:2015 Quality Manage-ment System standards, the Bell factory and head office in Richards Bay, KwaZulu-Natal, manufactures ADTs for the southern hemisphere markets and knock-down kits for its German assembly facility for the emissions-regulated northern hemisphere markets.
The factory also builds Tractor Loader Backhoes as well as a range of Tri-Wheeler products, Rigid Haulers and trailers enabling Bell to supply equipment solutions to the construction, mining and quarrying, agriculture, forestry and waste handling industries in over 80 countries worldwide.
According to Bell Group Chief Executive, Leon Goosen, about 75% of what Bell sells in South Africa is manufactured in the country. "Apart from designing many of our own products with our local engineering team, we are also focused on increasing the local content of our products with a Bell ADT having a local content of over 70%."
To complement its manufacturing operation and support its machine population, Bell has invested substantially in a Global Logistics Centre in Johannesburg as well as an extensive distribution and support network that includes 22 Bell-owned branches in South Africa.
Employing almost 2 500 people locally and creating thousands of jobs indirectly by purchasing from over 900 local suppliers, Bell is a sizeable contributor to the economy, and an integral part of the communities in which it operates. In addition, the company believes in 'growing its own timber' through its MERSETA-registered apprenticeship programme as well as providing operator and technical training for Bell employees and customers.
The company attributes its success to its customers. Goosen says: "Were it not for our customers, the group would not exist, so we follow the philosophy of 'if our customers succeed so will we'. By listening to our customers' needs, developing relevant equipment solutions, manufacturing quality products and providing support, we work to create value that will help our customers succeed and sustain all our businesses in the long term."