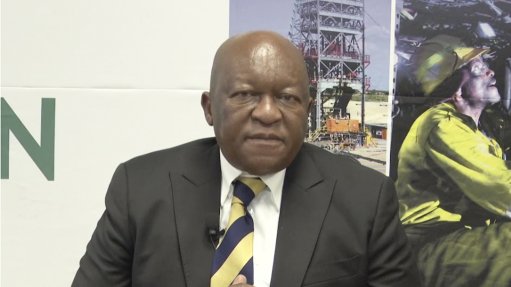 RBPlat CEO Steve Phiri
Photo by: Creamer Media
JOHANNESBURG (miningweekly.com) – The feasibility study for the construction of the 30 MW modular photovoltaic plant for renewable energy will be concluded in the second quarter of 2022, platinum group metals (PGMs) mining company Royal Bafokeng Platinum (RBPlat) reported on Tuesday when it presented record financial results and declared a R1.5-billion dividend in addition to its R482.3-million share buy-back and redemption of a portion of its convertible bonds.
The solar plant is envisaged for use during peak electricity load at RBPlat's BRPM mine as part of a first-phase renewables programme of the Johannesburg-listed company. (Also watch attached Creamer Media video.)
"As a PMG producer, we are acutely aware that we play an important role with respect to the environment," said RBPlat CEO Steve Phiri during a presentation covered by Mining Weekly.
"Environmental stewardship is a key aspect of our sustainability journey and we continuously seek to improve our processes and reduce our impact.
"The PGMs we produce have a positive impact on the environment, but that impact is affected by how we operate.
"During this half, we have reviewed and enhanced our sustainability framework, climate change policy and strategy as well as our energy management strategy.
"We support all the sustainability development goals and have prioritised them based on what we believe our contribution can be and we incorporated them into our sustainability framework.
"We have adopted a precautionary approach to environmental management that is based on best practice, legal compliance and maintaining our environment and social licence to operate.
"Our environmental management systems are aligned and certified to ISO 14001 requirements and we voluntarily participate in the Carbon Disclosure Project.
"Addressing the impact of climate change remains our key focus with ongoing climate change risk and vulnerability studies being conducted in our operations.
"We have set energy and water efficiency targets with the aim of improving efficiencies around our consumption of fuel, water and electricity. To enable us to me these targets, we're in the process of updating our energy and water strategies to identify more energy- and water-saving opportunities. We are also investigating green energy alternatives," Phiri said.
The water treatment plant continues to reduce potable water consumption and options are being evaluated for a modular portable type plant.
"With regards to environmental, social and governance stewardship, we will continue to deliver on our 'more than mining' philosophy, through investment in our social labour programmes," said RBPlat executive head of operations Neil Carr, who has reported that the project would be tackled from an environmental point of view and would aim at limiting RBPlat's exposure to power utility Eskom and to take the peak off daily Eskom power demand.
The renewable energy study is just one of five project studies. The first of these is a study on optimising the life-of-mine of Styldrift, now close to steady state production of 230 000 t a month.
Upper group two (UG2) reef's importance at RBPlat's BRPM mine is being emphasised by the high rhodium and palladium prices and the second study centres on optimising the life of BRPM's UG2 operation.
The third study centres on the potential for improvements in concentrator capacity at the Maseve and BRPM concentrator plants.
And the fourth study involves the building of an overland conveyor system to the Maseve concentrator.
A standout feature of the Styldrift mine is a 6.4 km overland conveyor belt that was commissioned in 2018.
RBPlat's two operations are located in North West province.