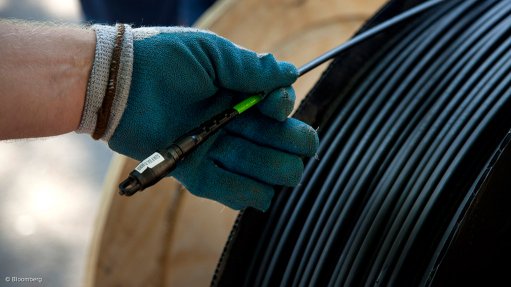 Photo by: Bloomberg
By Jade Crocket
Telkom announced on Friday that it would roll out fibre to the home (FTTH) connectivity supporting guaranteed speeds of 100 Mb/s on the network to 20 South African suburbs by December.
This formed part of the group's Network Transformation Programme.
"We hear customers' demand for high-quality and high-speed Internet connectivity. The quality and speed of connectivity that fibre provides means that South Africans can take advantage of the endless possibilities access to the Internet has to offer," Telkom CEO Sipho Maseko said at a results presentation.
Independent service providers would also be "welcome to participate so long as they have the appropriate wholesale agreements with Telkom", he added.
Further details regarding the FTTH packages and pricing would be made available in due course. "A Web-based system providing details and facilitating sign-up should be available by the end of next week," said Maseko.
However, this 20 suburb roll-out was only the first phase. "In the meantime, we don't want to keep anyone in the past. Other services are [also] being offered to support [the] upgrade [of] capacity and higher-speed broadband."
Maseko highlighted that Telkom already had 475 144 active very high bit rate digital subscriber line (VDSL) fibre network ports, enabling it to supply 399 606 homes with VDSL connectivity at speeds of up to 20 Mb/s and 40 Mb/s.
In addition, the group's long-term evolution (LTE) roll-out was gaining momentum.
Designed to support roaming Internet access through cellphones and other handheld devices, it was a suitable option for use in areas where there was no asymmetric digital subscriber line infrastructure.
So far, there were 1 183 integrated Telkom Mobile LTE sites across the country, achieving speeds of up to 80 Mb/s.