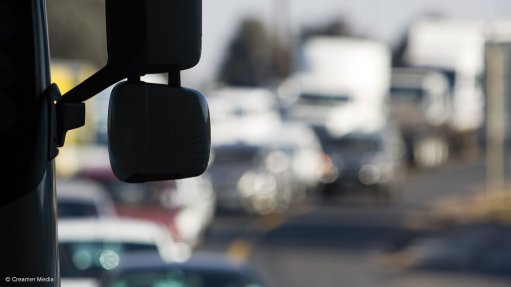 Overload control statistics for 2014 show that just more than 2-million vehicles were weighed at South African weighbridges, with 20%, or 416 364, of these overloaded, says Council for Scientific and Industrial Research (CSIR) Built Environment network asset management system research group leader Dr Paul Nordengen.

However, the number of chargeable offences – in other words, the vehicles exceeding a prescribed tolerance level necessary for prosecution – was only 2.6%, or 53 525 vehicles.
Most vehicles weighed were on Mpumalanga's N4 corridor, at 669 000 vehicles, with the Eastern Cape weighing only 65 vehicles in the whole of 2014.
The vehicles weighed include bakkies, buses, small trucks and large trucks.
The statistics cannot be expanded to generalise about the trend of overloading in South Africa, as not all vehicles are weighed at weighbridges, and as weighbridges are largely located along major transport arteries.

115.3t OVERLOADED
The worst case of overloading in South Africa Nordengen is aware of happened in 2004 in the North West.
Six trucks carrying cobalt concentrate from the Democratic Republic of the Congo (DRC) to Johannesburg, over a distance of 3 500 km, were overloaded by between 30.7 t kg and 37.6 t, or roughly between 55 and 67%.
The worst case reported in the African media to date has been a truck, intercepted in Kenya on its way to the DRC, which was overloaded by a massive 115.3 t.
The maximum gross weight of the seven-axle truck was supposed to be 54 t.
In KwaZulu-Natal last year, the worst case was a vehicle overloaded by 23 t.
"A heavily overloaded truck can literally rip up the asphalt on a hot summer's day as it tries to pull away," says Nordengen.
The general historic trend appears positive, however, he notes.
From 1995 to 2009, the average overload per overloaded vehicle declined from more than 3 t in 1995, to around 600 kg in 2009. (The last comprehensive report on overloading in South Africa was done in 2010.)
The percentage of weighed heavy vehicles found to be overloaded had stabilised at around 18% in 2009 (in 1995 this was 80.9%, although based on a much smaller sample), with the percentage of chargeable offences less than 4%.
Although there are many definitions for an overloaded vehicle in South Africa, the easiest to understand is the one stating that the maximum mass of an appropriate truck with two trailers is 56 t.
Other definitions include a tyre manufacturer's rating for maximum axle load, a manufacturer's rating on a vehicle (such as a one-ton bakkie), and the so-called bridge formula, that aims to limit load intensity to ensure the safety of South African bridges, says Nordengen.
He believes South Africa's regulations on overloaded vehicles are adequate. However, the problem of persistent overloading stems from the inadequate enforcement of these regulations.
While there are around 80 operational weighbridges in South Africa, most of them are located on national routes.
In 2009, 92% of vehicles weighed were travelling on national routes.
"Many operators use provincial routes to avoid weighbridges," says Nordengen.
Weighbridges are expensive, which means it is difficult to simply build more.
"Also, weighing procedures are often lengthy, having a negative impact on operators' efficiency," says Nordengen.
Maintenance of weighbridge equipment is equally problematic, as is the consistent application of the regulations.
"One weighbridge takes the tyre limit into account and another the vehicle limit, which means that in some cases the operator can pass at one weighbridge and fail at another," explains Nordengen.
Most weighbridges are also not operational 24 hours a day, owing to staff constraints, which means it is possible to bypass weighbridges, even on national routes.
"It is also possible, and it happens too often, that operators pay their way through weighbridges," notes Nordengen.
"There was the case of an operator paying bribes directly into a traffic officer's account at a casino.
"Corruption is one of the big hindrances to compliance."
Noncompliance is a "big problem" all over the developing world when it comes to overloading, he adds.
"South America, China, Africa – the problems are the same."
Nordengen estimates the damage to South Africa's road network owing to overloading at around R1-billion a year.
SELF-REGULATION
One solution to overloading is self-regulation.
Participants in the Road Transport Management System (RTMS) are required to maintain the necessary systems to demonstrate that each of their vehicles poses a minimal risk to the road infrastructure, the environment, other road users, while it must also be evident that the operator is taking care of its drivers, and consistently transporting passengers and goods safely.
The RTMS currently encompasses 154 fleets representing almost 8 000 trucks and buses ¬– up from the 74 vehicles certified in 2007 – operating in accordance with the prescribed SABS standard.
"Participation in RTMS has really taken off in industries such as forestry, sugar and mining, and more recently the bus industry," says Nordengen.
"Incidents of speeding, accidents and overloading are down, and fuel savings up."