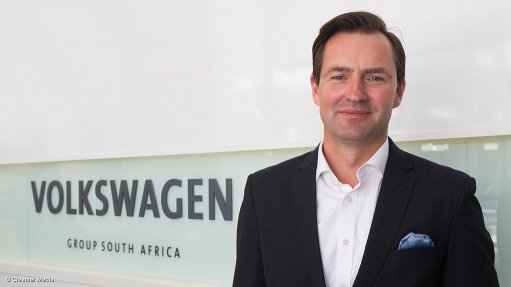 THOMAS SCHÄFER Africa will develop in many ways with cooperation. We need to learn to work together across the continent, find shared value, and ways of collaborating
Photo by: Creamer Media
Electric mobility through electric vehicles (EVs) in Rwanda can help the country in its efforts to go green, says Volkswagen South Africa (VWSA) CEO Thomas Schäfer.
This comes after Volkswagen launched a pilot project in the country in October last year, where it introduced its first EV in Africa.
The project was launched in partnership with industrial manufacturing company Siemens, in Kigali, and forms part of Volkswagen's operations in the country.
The pilot project is a part of the Moving Rwanda initiative, a collaboration between Volkswagen, Siemens and German companies SAP, Inros Lackner and the Deutsche Gesellschaft fur Internationale Zusammenarbeit.
The initiative was established because of Volkswagen's initial investments in Rwanda, which resulted in the launch of Africa's first integrated mobility solutions business in June 2018.
This business offers mobility solution services, such as ride-hailing and corporate car sharing, which are offered on the Move App, an information technology (IT) mobility solution developed by Rwandan IT start-up Awesomity Lab.
The services are offered using a fleet of vehicles assembled at Volkswagen Rwanda's assembly facility in Kigali.
The drivers and technicians working with the EVs also received specialised training prior to the launch of the pilot project in preparation.
During the pilot project, four e-Golfs and one charging station have been introduced to Kigali. A joint development agreement was signed with Siemens to provide the charging infrastructure for the EVs.
The e-Golfs will be added to the Volkswagen Mobility Solutions Rwanda fleet to provide customised mobility service. There is a plan to increase the number of EVs to 50 units and 15 charging stations, depending on the outcomes of the pilot project.
Schäfer highlights that all the EVs will be used exclusively on the Move App, with none being sold to private customers, as this will assist in retaining the necessary data and ensure that the vehicles remain in the hands of Volkswagen drivers.
This data will include road conditions and charging behaviour, as well as battery behaviour at altitude and in specific temperatures. He also points out the lack of competitive data, which makes gathering vital data even more important.
"There will be a parallel roll-out of more vehicles and charging stations over the next 12 months. "We have a fixed evaluation period, as there will be evaluations later this year and in 2021. We're going to use the data collected this year to decide on how we are going to scale this," Schäfer explains.
Ground Zero for EVs in Africa
Schäfer stresses that Rwanda is an ideal country in which to run this pilot project, as the layout and infrastructure of the country is not ideal for using combustion engines.
This is owing to the country being landlocked, and there not being any fuel refineries. This forces the country to import fuel from the Middle East, which still needs to be delivered by truck to places such as Kigali.
He reiterates that this increases the price of fuel in the country, which, along with the harmful impacts on the environment, makes the use of combustion engines a financially unfeasible prospect.
"Rwanda is already looking to get about 70% of its energy from renewable sources, and Rwanda President Paul Kagame has made his ambitions clear for the country to go green. There's a case to be made that Rwanda has the potential to leapfrog internal combustion engines to EVs," he claims.
Schäfer enthuses that many of the learning experiences, knowledge and data gained from these initiatives will be used in the company's growth strategy for African markets, such as Ghana and Ethiopia, particularly as they are countries that have a significant need for mobility.
"It's amazing what you learn during the launch of such a system. We have to deal with geodata, drivers, payment systems and the stability of the mobile application and network, so we've had an incredible learning journey and I'm glad we did it in Rwanda."
He also adds that, while VWSA might not present a similar prospect in the ride-hailing space, there is a long-term prospect of a similar initiative being done regarding car sharing, similar to the corporate car-sharing used in Rwanda.
"The next logical step is that Africa should develop much stronger alternative propulsion, particularly with EVs. "We need to work together across the continent to find shared value and ways of collaborating. The key to unlocking this lies in collaboration," he concludes.