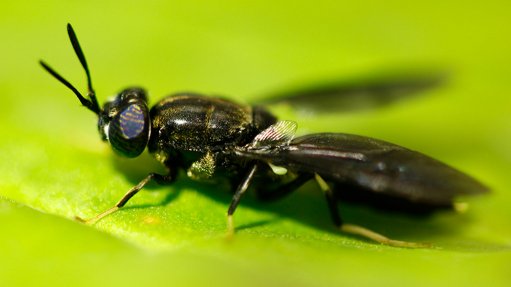 The Black Soldier fly
Cape Town-based waste-to-protein producer AgriProtein says it has secured $17.5-million of further capital from its key strategic partners to fund the company's expansion into Europe, North America and Asia.

The new investment values the fly-farming venture at more than $117-million.

The new round of funding enables AgriProtein to meet what it says is "growing demand from animal feed suppliers for a natural and cost-effective alternative to fishmeal, widely used in the poultry and fish farming industries".
"Our fly larvae product is already enjoyed by our consumers – the millions of happy chickens and fish around the world – for whom it's a natural source of protein," says co-founder Jason Drew.
"The new funding demonstrates a growing appetite for fly-farming in the global investment community, helping us pursue our mission to find a better way to feed the world."

On the world's largest farm by headcount – located in Cape Town – AgriProtein produces and licenses MagMeal, a high-protein feed made from dried, milled and de-fatted larvae produced by Black Soldier flies (Hermetia illucens), fed on existing organic waste derived from municipal and other industrial waste partners.

Using its army of 8.5-billion flies, AgriProtein's facility recycles 250 t of waste a day, with larvae production of up to 50 t a day.
Its product replaces fishmeal in agriculture and aquaculture feeds.
AgriProtein considers the trawling of fish for fishmeal as "one of the most destructive activities on the planet".
JHB FLY FARM
Drew tells Engineering News Online that AgriProtein has "progressed well" with its plans to establish a fly farm in Johannesburg.
A trial site has already been established in Durban.
The company has also allocated a number of international licences for use of its technology in Australia, Asia, Europe, the US and China.
"MagMeal is in great demand. We have also been exporting – very short term – to our licensees to help them establish markets before they build their own sites," notes Drew.
"We are building licensing support centres in North America, the European Union and Asia to support our licensees.
"We are also building our own wants in certain strategic locations to underpin our licensees."
MORE THAN MAGMEAL
Apart from MagMeal, AgriProtein also uses its fly farms to produce MagOil, which is a "natural, omega-rich oil for use in feeds" and MagSoil, "a high-quality compost for use in farming and horticulture".
AgriProtein was founded in 2008.
MagMeal was developed, trialled and proved in the lab between 2008 and 2010, leaving AgriProtein to demonstrate it could manufacture at volume.
The break-through came in 2011, with output at its demonstration plant achieving 100 kg a day.
With price per ton a key determinant in the fight against fishmeal, the next challenge was to further increase scale while reducing costs to make the product commercially competitive.
This was achieved in 2015 in AgriProtein's first 9000 m2 factory in Cape Town.
However, the company is "actively seeking further investment" to take it to its next stage of growth.

AgriProtein's research partners include the University of Stellenbosch; Rhodes University; the University of Swaziland; the London School of Hygiene & Tropical Medicine and the University of Alicante, Spain.
Its strategic partners are the Cristof Group, Austria (Engineering) and the Twynam Group, Australia (agriculture).